CO2 Drop Checker
WHAT IS IT ?
A drop checker is a simple tool to accurately measure the CO2 content of your aquarium water.  But unfortunately there is a lot of misinformation about them on the web.
1st – You must not use aquarium water in the drop checker ! You need to use Distilled water set to 4 dKh
2nd – The Drop Checker doesn't show the PH of the aquarium, it shows the PH of the water in the drop checker, the whole point is that it won't be the same as the aquarium water.
WHY DO I NEED ONE ?
Unless you are injecting CO2 into your tanks to boost plant growth you don't, but if you are injecting CO2 a drop checker is the simplest and cheapest way to tell how much CO2 is getting into your aquarium.
BUT THERE IS A CHART THAT LETS ME WORK OUT CO2 CONTENT FROM MY PH AND dKH ?  
Yes there is, but it doesn't take into account things other than CO2 that effect your PH, like Phosphates which you are likely dosing a planted tank with, tannins from driftwood or almond leaves.  Whilst the chart is no doubt accurate in a laboratory situation It's all but useless in an actual planted tank situation.  According to the chart my CO2 level is well over 60ppm, according to my drop checker its around 30ppm which is ideal.
WHY DO I NEED DISTILLED WATER AND WHAT DOES 4 DKH MEAN ?
You need water free of any impurities ie Distilled water so you know that any change in the bulb is as a result of interaction with the aquarium water and not as a result of something that was in the water you used in the drop checker. dKh is Carbonate Hardness and 4 dKh is a level that produces easy to see colors when PH solution is added, blue means CO2 is low or non existent, green means it is in the good safe zone, yellow means CO2 is too high.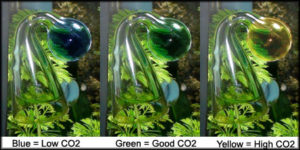 HOW DOES IT WORK ?
By having two bodies of water with an air bubble barrier between them any gasses in either body of water will move back and forth until an equilibrium is reached, but solids (like tannin from bog wood, phosphates etc) won't so after a couple of hours you will have an accurate reading of the CO2 content in your aquarium.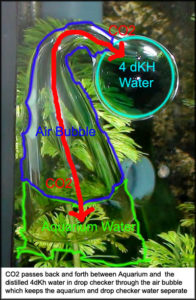 I sell complete CO2 Drop Checker Kits on Trade Me. As well as CO2 proof bubble counters, tubing and anti return valves for setting up a DIY or pressurised CO2 system.